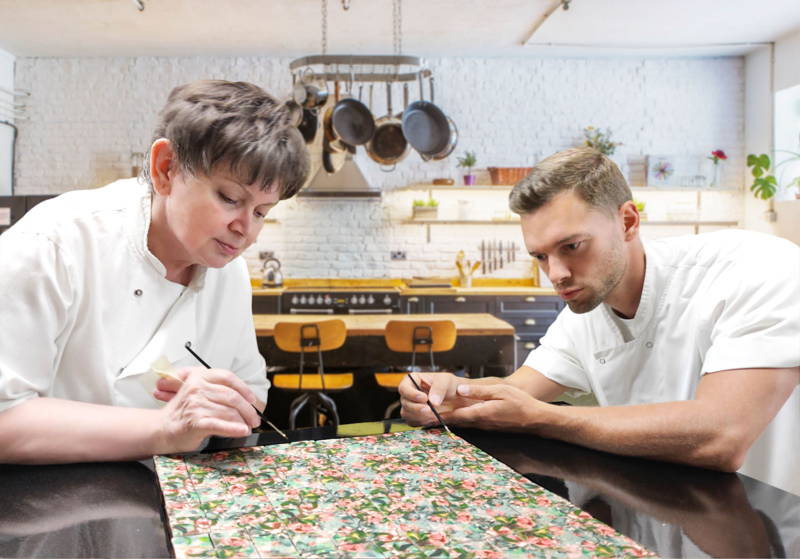 HOW DID WE BECOME A SMALL PIECE OF OUR GRAND MOSAIC?
Biscuit Boutique's gourmet cookies are a treat for the eyes and the tastebuds – the perfect gift for the hungry aesthete.

WORKS OF ART aren't usually edible, and delicious food is rarely beautiful, but Biscuit Boutique has managed to disprove both of the assumptions. This family-owned business – run by mother-and-son duo Judith and George, and his partner Christian – creates complex baked cookies that serve as dazzling geometric artworks in their own right. Served in elegant boxes, they have proved incredibly popular as high-end gifts.
"My mother has remarkable experience, both as a pastry chef and a painter for the world-famous Hungarian porcelain manufactory Herendi," saysGeorge. "We wanted to create a project which utilised her artistic skills and my business experience to make something unique. People love to receive a gift that has been made for them and there's a particular pleasure in beautiful and tasty food. We came up with the idea of a mosaic biscuit – a genuine work of art where we combine intricate porcelain painting with delicious, gourmet biscuits."
Biscuit Boutique's stunning designs feature chocolate ganache filling which is a treat for the taste-buds. "When I look at these amazing creations I find it hard to remember the trials and tribulations we went through to get the recipe and art just right but our perseverance and belief in our dream kept us going," says George. "We were forced to take the business online in March 2020 due to the global pandemic and created an online store which welcomed a fantastic surge in business. We produce a whole experience, with every detail including tissue wrapping and ornate packaging, given the same attention. Customers can either choose from already developed designs or opt for bespoke for christenings, weddings or baby showers."
"Part of the pleasure is the surprise at this truly breathtaking gift," says George. "This is a very special offering which you will be happy to give or grateful to receive. Many customers find them almost too beautiful to eat but they last for up to ten months, so you can take your time to enjoy them. Biscuit Boutique provides a unique and beautiful experience, making them leaders in the luxury confectionery market."